A Accredited is a fully certified mold inspection and indoor air quality testing firm serving Palm Beach, Broward, and Dade Counties, including Miami, Ft Lauderdale, West Palm Beach, and all of South East Florida. For larger inspections we cover all of Florida and the Caribbean. We provide professional quality mold and IAQ testing on condos, homes, and commercial buildings large and small.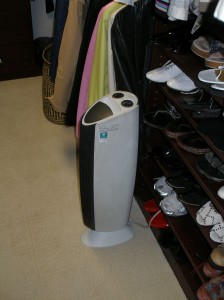 About Ozone Machines
Some air purifiers similar to the one in this photo produce ozone, other do not. The one in our photo may have been producing ozone or may not have, the photo was taken by our inspector in 2006.
Various electrostatic filter type devices that use metal plates can produce ozone if the metal plates are not cleaned on a regular basis and thus become too dusty over time. The excess dust increases the chances of unwanted electrostatic discharges jumping between the plates, these sparks act like tiny lightning strikes that produce ozone.
Many of our clients who have mold problems or other indoor air quality problems utilize ozone generators, or UV lights inside AC units to help combat mold problems, indoor air quality ( IAQ ) problems, and odors in their homes. Never look at one of these pretty blue lights directly the UV light will permanently damage your Eyes.)
Such machines and lights are very common in homes of people who hire mold inspectors because of air quality problems or odors. I once did an inspection for a long retired yet still hot playboy bunny in Ocean Ridge or Manalapan located between Boynton Beach and Lantana Florida. As soon as I entered her home I could smell ozone, it turned out to be produced by UV lights in her AC unit. A few years later I conducted an inspection for a famous movie star (This is all true) and he had the same problem four times over, he had four AC units all with UV lights generating ozone. According to the manufacturer these bulbs were not suppose to create ozone. What manufactures claim about products, and what nature dictates are two different things. The UV lights was causing normally two oxygen atom molecules to combine into three oxygen atom molecules and form ozone in his 10,000 sf central Florida home. How do I know? because I could smell ozone and the closer I got to the AC units the stronger the odor. In addition ozone is what UV light often turns oxygen into regardless of what the manufactures say.
I have seen many of these AC mounted lights, and even more of the stand alone ozone producing air purifying machines in houses. When used in excess, instead of helping, these lights and air purification machines may make you feel worse because they produce ozone, this gas smells fresh and clean but it may cause respiratory irritation when produced at certain levels.
Especially at risk are the more sensitive persons such as asthmatics that are likely to use these machines.
A Accredited Inspection Service, Inc can test and inspect for elevated mold spore levels, gases, fumes, and ozone problems in your home.
Should I use an ozone generator to address an existing mold problem?
At elevated levels ozone irritates lungs, and is not likely to be effective at addressing an indoor mold problem by itself. No one should expose themselves or others to elevated ozone on purpose. Address the cause of the mold (usually moisture) and then remove the mold by cleaning surfaces or removing moldy materials.
http://www.doh.state.fl.us/Environment/community/indoor-air/mold.htm#WhatisStachybotryschartarum?
About At A Accredited Mold Inspection Service, Inc.
Our certified indoor air quality testing consultant or IAQ tester providing professional quality services for home owners, renters, and commercial building managers with suspected toxic black mold, chemicals, ozone, indoor air pollution problems, fumes, or musty odors and other building related problems and IAQ issues. We provide services throughout South East Florida.