Home Inspector in West Palm Beach
Fl State licensed home inspector # HI2411. We obtained our license March 3rd 2011 when licensed were first required by the state. Located in West Palm Beach we cover all of Palm Beach County including:
Boca Raton, West Palm Beach, Jupiter and all points between.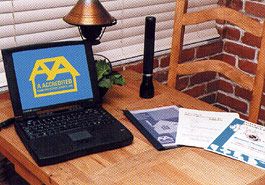 Looking for a certified home inspector in West Palm Beach? need a 4 point insurance inspection report?  a termite inspectors report? or septic inspection ? A Accredited Home Inspection Service, Inc. has provided professional building investigations for commercial building and residential home buyers since 1994. We have provided mold inspections since 2003. Do not be someone's learning curve, hire only experienced inspectors.
In addition to years of experience, we have no conflict of interest, we inspect only and do not provide repair services.
Also we have always worked for our clients not our clients real estate agents. Always be wary of inspectors who are looking out for the best interest of your Realtor.
In order to offer better and more extensive services we have partnered with some good quality local
firms offering various services. These companies provide septic inspections, termite inspections, Wind Storm Mitigation inspections,
and other services in order to meet your pre-purchase home inspection needs:
. All our methods and reports are in compliance with the strictest of industry standards.
. Very thorough inspection.
. Most professional and most comprehensive computer generated reports available.
. One of the first companies to provide a summary page of our findings.
. Not a franchise, but owner operated with experienced home inspectors.
. Wide range of services ( well water testing, septic test, pool, spa, termite report, 4 point insurance inspections, and mold testing) means one stop shopping for you.
. Competitive prices.
. Professional Service.
. Experience.
. No conflict of Interest, we work for the buyer only.
. Member of National Association of Home Inspectors (NAHI).
. Member of Environmental Assessment Association (EAA).
Call us to schedule a visit. Our Palm Beach County home inspection services can usually be provided within a few days of your call. If you or your REALTOR® attend the inspection, schedule 2 to 3 hours and make sure all utilities are on at the property.
Our home inspection report consists of a comprehensive 10 to 15 page computer generated report. This report is professional and easy to read and one of the few narrative reports offered in the industry. Narrative reports are preferred over checklist reports.
In 1994 we became one of the very first firms in Palm Beach County to provide a summary with the report. Our summary page is easy to read and puts in front of the report all items that are in need of repair.
Our reports e-mailed to you and if required your agent within 24 hours of the inspection, so there is no waiting for a report to arrive in the mail.
Need a Florida State licensed West Palm Beach home inspector, covering all Palm Beach County, hire our home inspector in West Palm Beach. Offering home inspections in Boca Raton, West Palm Beach, and all points between.
Mr. Watters has been providing professional home inspections in West Palm Beach Flrida since 1993 and has experience in inspecting everything from large oceanfront properties, to condos and small residential homes. Our home inspection partners listed above also provide wind mitigation inspections, 4 point insurance inspections, and a few other specialty services we do not provide.