Boca Raton Mold Inspection Inspector
BOCA RATON MOLD INSPECTION SERVICE.
A Accredited is a fully licensed, well established, and widely trusted Boca Raton mold inspection firm. Our inspector offers mold testing in Boca Raton and in all the surrounding Palm Beach County areas. On large commercial investigations we have traveled many times, and will continue to travel throughout the state of Florida as well as the Caribbean. We also provide allergen testing and even professional quality IAQ testing for hundreds of chemicals effecting indoor air quality.
Not all inspectors are alike so be careful when hiring a mold inspection service in Boca Raton.
Our local area consultant has likely dealt with your specific mold problem or air quality issue before because he started conducting home inspection in 1993 and mold inspection in 2004.
In addition the inspector in Boca Raton Florida has a degree in Education for Teaching Biology and General Science.
Our inspector is certified and recognized by: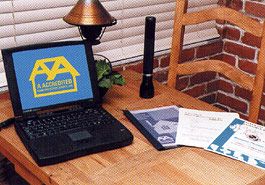 The American Council for Accredited Certification.
The National Association of Home Inspectors.
The Professional Certification Institute.
A Accredited also holds several other relevant credentials including ESA qualifications in the field of allergen investigations and mold.
Choosing A Accredited Mold Inspection Service, Inc. will provide you with the security and peace of mind you need because our consultant has the knowledge, experience, and skills, needed in order to provide a proper investigation of your home, or commercial property. When you are looking for the right mold testing firm or even full service indoor air quality testing service let us be your choice.
If you or any of your family members are experiencing illness, or if you or family members are detecting odors and feel it may be related to mold, allergens, or chemicals, call us for a qualified Boca Raton mold inspection or for general air testing. Our specialist can help with all your Boca Raton testing and inspection needs.
————————————————————————————————————————————————————-
Palm Beach County Mold Inspectors in
Broward County Mold Inspections in
 For larger Inspections and commercial inspections we cover all of Florida and the Caribbean.
Offering toxic mold or black mold problem help and chemical odor help from our mold inspectors in, Palm Beach – Dade – and Broward Counties from Vero Beach to the Keys.
A Accredited Mold Inspection Service, Inc.
1(888) 381-6651